News & Careers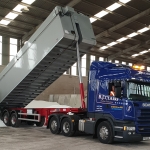 (Posted on 26/04/19)
One of brand new bulk tippers doing what it was purchased for! Keep up the good work Jambo!!!!!!!!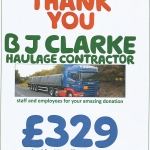 (Posted on 12/02/19)
Staff donated to Macmillan Cancer Support instead of sending christmas cards in 2018. A whopping £329 was donated, so a big, big thank you to everone who gave.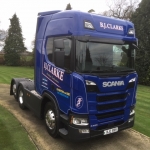 (Posted on 11/01/19)
We have taken delivery of our first Next Generation Scania and have placed it in the care of one of our long serving drivers, Keith. We know we are putting it in good hands as he always takes great care of every truck he has.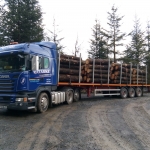 (Posted on 27/03/18)
Keep an eye out for Addy and Jim, our drivers if you are walking in the forests of Wales. If you see them give them a wave!!!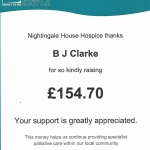 (Posted on 25/01/18)
Once again, we asked staff to donate to Nightingale House Hospice instead of sending Christmas cards in 2017. £154.70 was donated which was an increase on 2016. A big thanks to everyone at B J Clarke who donated.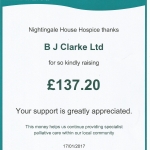 (Posted on 07/02/17)
Instead of sending Christmas cards last year B J Clarke and staff donated to Nightingale House Hospice in Wrexham. A whopping £137.20 was collected. A big thanks to everyone that donated.
Careers
If you are a professional and qualified driver with an ADR licence seeking to work within a family run business, please get in touch.
You can download an application form, complete and return to:
B.J.Clarke Limited (Recruitment)
The Darlands
Cloy Lane
Overton-On-Dee
Wrexham
LL13 0HP