Our Fleet
We operate a diverse fleet of vehicles, which comprises bulk and aggregate tippers, flat-bed trailers, curtain-sided trailers and rigid vehicles. Our dedicated onsite maintenance facility ensures our large fleet of modern vehicles is regularly serviced to ensure all consignments are delivered on time.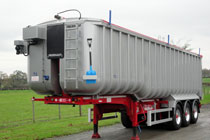 Bulk Tippers
We operate 44-tonne capacity bulk tippers with on-board weighing systems to transport raw materials, including fertilisers, animal feed, recycling and waste materials, sand and dry foods such as grain and rice.
We have designated waste carriers to avoid cross contamination of products to provide total peace of mind to the relevant supply chains.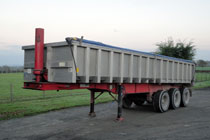 Aggregate Tippers
With a load capacity of 44 tonnes, our fleet of aggregate tippers reliably transports and delivers stone, sand, quarry products and recycling materials.
We can also remove excavated materials, hardcore and waste.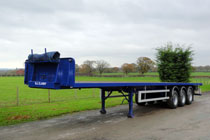 Flatbed Trailers
Used across construction and agricultural sectors, our 45ft flatbed trailers provide greater flexibility in the transportation and delivery of timber, steel, cables, pallets and bales.
Heavy and bulky goods can be loaded easily and transported safely and conveniently.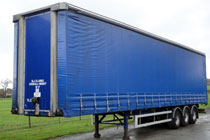 Curtain-Sided Trailers
Our 45ft curtain-sided trailers provide unrestricted access whilst loading and unloading. With a loading capacity of up to 44 tonnes, our curtain-siders can carry any manner of materials and products.
Our entire fleet is approved to carry hazardous goods and all our drivers carry ADR licences. All vehicles are equipped with tracking devices enabling all consignments to be monitored and located with ease. To comply with some regulations within the aggregate industry, many of our tipper drivers are equipped with MPQC Driver Skills Cards.